Mt St Helens
NIGHT RIDE
.
Only tall and obnoxious Mexicans allowed
. There was a full moon out. Riding from Windy Ridge down Smith Creek, up Ape Canyon, across the Plains of Abraham to Windy Ridge as a loop.
Zillys description of ride
Departure time from Puget Sound area was 12:30 PM, actual start time of ride was 5:30 PM, sunset at 8:14 PM, twilight at 8:47 PM, moon rise at 9:03 PM. The plan was to do the climb in daylight, enjoy the sunset up high. That did not happen due to late start, but it was nice to start the climb as the sun set. At times the full moon was directly in front of us and up the trail, such that it seemed like we were staring a freight train down in a tunnel!
A quality night light was necessary, HID is best but 10W OK. It is a loop, so the plan was such that if battery time ran out, we would wait until the cougarsö eat us. Radio recommended.


Armando and I agree that this ride is among the top 3 rides we have ever done.
Riding down Smith Creek was a total blast (sorry, pun intended)! We stopped many times for pictures. After one stop, I was ahead of Armando and got to the creek crossing before him. After waiting about a half hour for him to catch up, I thought maybe he had crossed the creek low (you should cross high, where the trail meets the creek), so I started down the creek looking for traces of his crossing, such as foot or tire marks. Eventually he arrived at the creek at the right location so I went back up the creek to regain the trail. Evidently, he had gone back up the trail thinking I had run off it as he normally would have caught up to me earlier. This was a reminder to start together or get a radio, as we basically had lost each other right as the sun was setting.

Due to the late start and leisurely events down Smith Creek, the ride up Ape Canyon was in the dark, but no worries. Well, sort of worried about the large animal in the forest that seemed to be near us for 20 minutes near the top of Ape Canyon - we think it was a bear, did not actually see it, but saw bear tracks leading up to where we heard the noise.
Along the Plains of Abe and Windy Ridge, we rode with the lights off, as the moon illuminated the trail nicely. No wind up top, perfect weather. After about 23 of the 27 miles, we took a break to enjoy a flask of Patron Añejo on the Plains of Abraham. 45 minutes later, after much laughing, we continued the ride. Wow, what fun to finish a ride powered by quality Tequila and a full moon! I took a couple falls on Windy Ridge, but I didn't care. Although I generally like to end a ride on the descent, this worked out best by ending at Windy Ridge after a substantial climb - thus we ended the ride with the best moonlight ride ever.
Doing the Smith Creek Epic, ending on an uphill, was a big ride. I would only recommend our route to someone who has already done the epic - an epic ride is big enough, you don't want your first time on it in the dark.
This was a rare opportunity, perfect weather, full moon. Precautions to take would be to take a buddy along, so they feed the bear instead of you. Some exposure, esp. on Windy Ridge. Moonlight with the HID off does add risk but we were more than happy to take that risk. During the climb, I was running a bit low on energy, so bring energy stuff. As the sun sets, it does get cold despite season being warm, so bring a couple light layers, according to your judgment.
The one thing that would have made it better would be to take a sleeping bag along. We really wanted to sleep on the Plains of Abe.
We finished the ride at 1:30 AM, but got home around 6AM, as the sun had already risen.
Ken at Smith Creek Viewpoint 08.19.2005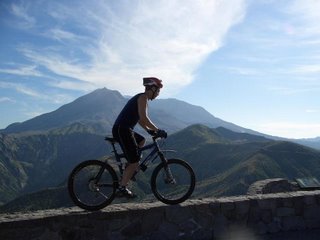 Ken Rippin down Smith Creek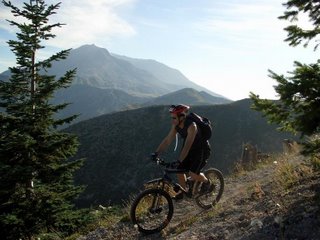 Armando at Smith Creek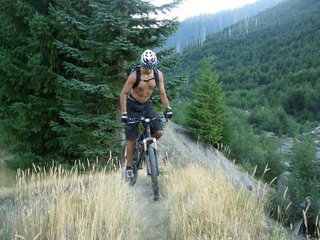 Ken at Smith Creek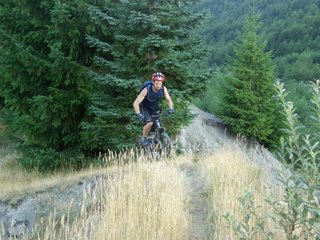 Armando Plains O' Abe, wishing we could ride up Loowit Trail to watch the volcano explode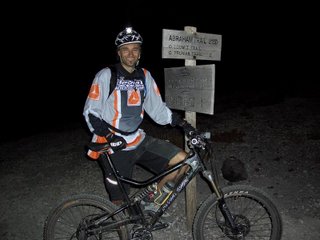 Plains of Abraham. Why is Ken happy?